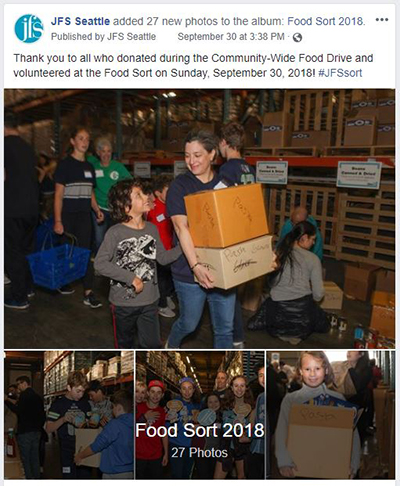 There's more dignity, justice and food security for all thanks to our generous community and the successful 2018 Community-Wide Food Drive. 263 volunteers and staff sorted, boxed and organized about 2,050 grocery bags of food and toiletries during the culminating Food Sort on September 30.
Donations will help feed and support about 1,300 households who turn to the JFS Polack Food Bank each month.
Food Bank services include an onsite consumer-choice experience; a monthly Kosher Food Bank; cooking classes for low-income individuals; customized grocery delivery to homebound elders and people with disabilities; and, a monthly Eastside Food Bank for seniors who emigrated from the former Soviet Union.
The annual Food Drive and community support throughout the year help JFS continue its work with military veterans and other students at Seattle Central College (SCC) who may not have food security. The JFS food pantry at SCC is now in its second year helping people like Tiffany, a single-mother who served army tours of duty in Afghanistan and Iraq and is currently working toward her nursing degree.
When Tiffany describes the difference the JFS food pantry makes to her and other students, she says it all:
"It's awesome, our food pantry at the school, because it gives me the opportunity to say yay! Something I can eat right now. Or, hey, our food stamps don't come until later in the month, so I can fill up a bag and just fill out the form… and, then I can grab what I need, and I can actually tailor it to me. And there's no stigma. At our school, we're like, if you're hungry, eat. If you need food, we will find you food. Because food security should be for everyone."
When you support the Food Bank throughout the year, we work together toward the goals of dignity, justice and food security for all. Continue to advocate for food security — and, get a young person in your life involved in food security with this comic adventure.
See what's next!
Upcoming JFS Events