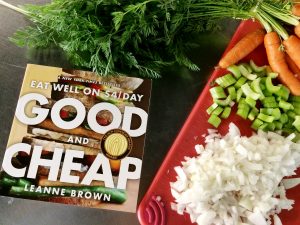 Once a month, the distinctive, delicious smell of home cooking wafts through Jewish Family Service. When you follow your nose, it takes you straight to the Polack Food Bank — which has been transformed into a demonstration kitchen. Ten men and women, most of them in their 50s and 60s, are watching as fresh vegetables are peeled and sliced, herbs are chopped and a pot gently simmers on a burner.
As with any cooking class, they are here to learn techniques, collect tips and expand their repertoire of recipes. But this group of Central District and Capitol Hill neighbors has also gathered to share a community meal and enjoy the companionship of friends they've made by cooking together at JFS.
The cooking class core group of eight has been coming together for more than two years. Their teacher for most of this time has been Brian Sindel, Food Bank Specialist. A Southern-California native, Sindel came to JFS after spending two years as an AmeriCorps volunteer with Solid Ground, another Puget Sound non-profit. Sindel taught nutrition in public schools that had at least 70 percent of students receiving free or reduced-cost lunches.
The intersection of the food system, nutrition, health and social justice is Sindel's passion. Teaching the JFS cooking class is one way he puts his values into action, helping older adults find ways to create healthier, budget friendly meals.
"The meals are vegetarian and accessible," Sindel said. "We choose recipes that have readily available ingredients and don't require specialty equipment." Since some participants have limited kitchen facilities, meals in the demonstration kitchen are made with only a hot plate, microwave and toaster.
A common objection Sindel hears from people about vegetarian meals is not feeling full. So his emphasis is on veggie-rich options that are bolstered by good proteins, like beans and tofu. "The desire to break the cycle of meat at the center of the plate is both a health and a budget choice," Sindel explained.
Heartiness and flavor come from layering a variety of spices. "One class we did a spice exploration. We set up a blind sniff test and the group did so well identifying each spice," he said. When the group cooks, they learn about complementary flavors and pairing spices with other ingredients.
There is undeniable benefit in helping people develop skills to support their health and to work within extremely limited budgets. But Sindel is most passionate when he gets to talking about the dynamic of this tight-knit group.
"These are single adults who don't necessarily have a lot of other social outlets," Sindel explained. "The class is a great community space. People make and share a meal — everyone looks forward to being together."
And that sense of community extends beyond the classroom. Participants support each other with ideas about re-purposing leftovers and finding neighborhood market specials and sales.
Sindel relishes this part of his job for reasons that go beyond what's on the table, reasons that get to what happens around the table. "The meal breaks down the client/service provider dynamic, and we have conversation," he reflected. "I've learned about people's childhoods, the stories of their lives and how they came to where they are. It's a great, great moment."
Next Time, Spice It Up!
Spices are a building block for healthy eating, but they are pricey. Next time you make a Food Bank in-kind donation, add ground black pepper, garlic and other spice cabinet staples (no glass containers, please).
By Deb Frockt
Deb Frockt is Director of Marketing & Communications. She enjoys baking, beaching and learning about golf, both kinds of football, fashion and pop music from her husband and sons.