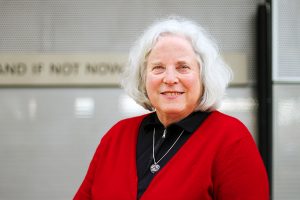 Carol Mullin walked into a small closet that had been transformed into a pantry, began pulling food from shelves and filling a bag for a community member in need.
That was nearly 29 years ago when Carol worked as one of two part-time staff members in Emergency Services at Jewish Family Service; and now, Carol will retire on March 2 from her full-time position as the director of the department where she has served as a Case Manager, Food Bank Manager and Volunteer Coordinator. Today, her department has five full-time staff and about 550 volunteers who help provide nutritious food for more than 1,300 households each month.
"Carol helped transform the Polack Food Bank from a shelf in the closet to its current state of the art format," said CEO Will Berkovitz. "She has mentored countless staff, including many early-career social service professionals. Her leadership and dedication during such a sustained period of time is an inspiration to all of us."
GUIDING GROWTH
Carol guided Emergency Services through major expansions to better serve the most vulnerable in our community, including the growth of the Food Bank to help feed the greater community with a client-choice shopping experience, home delivery for home-bound clients and an Eastside Food Bank in Bellevue.
As neighborhood clients began to age and struggle with mobility, Carol gathered four volunteers to deliver food to 20 households nearly 20 years ago. Today, more than 400 clients receive home deliveries thanks to a slew of volunteers.
Around that same time as the home delivery program began, JFS partnered with the Jewish Day School of Metropolitan Seattle to have an Eastside Food Bank. The effort expanded to a church across the street from the school and has been incorporated into classroom curriculum for students.
Expanding nutritious food to the vulnerable wasn't the only growth Carol oversaw. She helped expand services for those in need of stable housing with the Homeless to Renter (H2R) partnership between King County, Temple Beth Am and JFS. The program helps provide first and last months' rent, along with a deposit, for homeless families who would otherwise not be able to come up with money upfront for housing. The funding gives families a boost in getting a fresh start. In addition, case managers in Emergency Services help clients with money management and resume building thanks to the employment services Carol started. 
"I'll never forget JFS, and the help they've given me," Allan said. He is one of thousands of JFS clients who Emergency Services has helped in multiple ways, from stable housing to food. "I like how JFS doesn't make you feel less than — there is no shame when you visit. You're greeted with a smile, and they go out of their way for you. It's extremely helpful for me and a huge morale booster."
GIVING & GIFTS
While Carol was helping expand services to help feed those in need, she also worked to help keep vulnerable members of the community feeling connected and remembered during the holidays.
With the help of Carol and a small group of who volunteered at JFS, the Chanukah Tzedakah Program was created. It started with donations to help provide gifts to those who otherwise wouldn't be able to afford presents during the Festival of Lights. Now, donors are paired with an anonymous individual  or family and buy gifts from a personalized list provided by the client. These range from coats to car tires. Carol has often spent hours creating profiles of individual and family clients — using gender, age and needed items — to match them with a donor family.
"Carol has really put a lot of effort into growing current programs and creating news ones," said Jana Lissiak, a former Food Bank Manager who worked at JFS for five years. "It shows just how invested she is and how much she cares about JFS and its clients."
Fun Facts about Carol's JFS Career:
There was no tech support when she started because there were no computers.

She still has her first JFS typewriter in her office.

Ronald Reagan was president when she started in 1988.

Nirvana released their first album the year she started working at JFS.

She "survived and personally cleaned up fish that defrosted and gooed out" overnight in the Food Bank.

She has supervised at least 31 staff members.

There are 15 current clients she has worked with since her early years at JFS.

By Rachel Anne Seymour
Rachel is a trail-running dog owner and the Marketing and Communication Coordinator for JFS. She has previously worked as a multimedia journalist for newspapers throughout the Midwest and Western Washington.