Ta Kwe Say, Resettlement Case Manager, delivered these remarks to U.S. citizens at the naturalization ceremony that was part of ARTvocacy.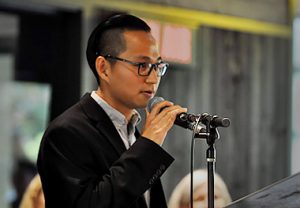 It is my honor and privilege to be here today with you as you become U.S. citizens. I know each of you has had a long journey that brought you here today. I am going to share a little bit of my journey, and I hope you will share your story with others someday.
In 2004, I could only dream of being here. That is the year I fled Burma, now Myanmar, when I was only 13 years old. I had to flee Burma because I am part of a minority group that is persecuted by the Burmese military government. When I left Burma, I joined family and friends in Bangkok, Thailand. We shared a dorm room with many other Burmese nationals who had also escaped.
We were in Bangkok without status. I had no basic rights, no health care and no access to education.
I did not go to school for about three years. I was terrified that the police would come to capture me at any time. Barely a teenager, I lived in constant fear. I dreamt about returning to school and reuniting with my family in the U.S.
In 2007, I was allowed to come to the U.S as a refugee. The United States gave me safety, healthcare, a free public education. Most importantly, the U.S. gave me a pathway towards citizenship. I became a U.S. citizen in 2012.
In college, I was able to travel to parts of Africa and Europe for field work with my U.S. passport. The whole world was opened to me, even places where I had no rights before.
For the last three years, I have volunteered at internally displaced persons and refugee camps on the Thai/Burma border to help deliver food and medicines. Each time I go, I am reminded that so many people in the world have so little opportunity, and if it was not for the generosity of the United States, I could still be living in fear and without status.
I am inspired to help my local refugee and immigrant community take advantage of opportunities we have here. My work as a refugee resettlement case worker allows me to do this every day.
Another way I do that is through my role as a member on the Kent Cultural Communities Board, which is representative of the diversity of Kent and advises the Mayor. With my Congolese co-worker, I also organized a soccer team made up of former resettled refugees. We have players from Vietnam, Somalia, Iraq, China, Iran and several ethnicities from Burma. We play in the Liga Azteca league, which is primarily Spanish-speaking immigrants. Our common language is love of soccer.
With each of these parts of my life, I am trying to give back to my adopted country, which has welcomed me, embraced me, and given me hope and so much opportunity.
As you become a U.S. citizen, my wish is that you will contribute in the society to make our country a better place, including exercising your right to vote.
In 2004, I was a terrified, 13-year-old Karen refugee hiding out in Bangkok, dreaming of life in America. Today, I am a Karen-American, grateful to the United States for giving me the chance for a new life.
Congratulations to you all on becoming U.S. citizens, and good luck with this new chance! And, may God bless you.