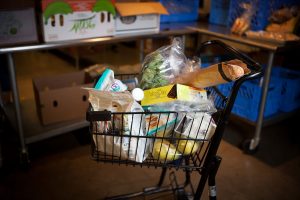 Jean* knows the exact cost of fresh vegetables, bread and coffee. The 69-year-old, lifelong Seattle resident knows when and where to get the best deals that will stretch her limited income. And she also knows most healthy, quality foods aren't affordable for her without assistance from both local food banks and the federal Supplemental Nutrition Assistance Program (SNAP), also known as food stamps.
"The produce is such high quality," Jean said about the Polack Food Bank. "I've gotten a big bag of red beets, a bunch of kale and zucchini. There are things I could no way afford on my own budget, like Tallgrass bread or Stumptown coffee. There is no way I could buy that."
Vulnerable people, like Jean, simply can't afford to meet their nutritional needs without the combined support of food banks and SNAP. Jean and more than 500,000 Washington state households — that's more than one million individuals or about 15 percent of the state population — participate in SNAP each month. Jean is also one of more than 1,300 households who rely on the Polack Food Bank every month.
Jean first learned about the Food Bank more than 20 years ago from neighbors in her affordable housing building. Today, some of her homebound neighbors receive help with groceries through the JFS Home Delivery Program.
About 68 percent of Food Bank items came from donations last year, according to Esther Magasis, Polack Food Bank Manager. Those donations include staple items, along with high quality products or small extras, such as that Tallgrass bread and Stumptown coffee.
While JFS provides high quality produce and a wide selection of items, SNAP gives clients flexibility. It supplements what the Food Bank can provide each visit, which, on its own, isn't sufficient. "Food is something you need every single day," Magasis said. "There are only so many meals you can skip. Having multiple ways to access food is really important for low-income people. There has to be more than just local food banks for communities to have food security."
Since the Polack Food Bank is available once a month to each household, Jean and others use SNAP to purchase additional groceries. They also become extremely savvy consumers. "I shop the sales. I always get the ads, you know," Jean said. "Bartell's will have extra virgin olive oil on sale for $2.99 about four times a year. And Adam's peanut butter for $1.99. I know how to make it stretch."
Without SNAP, those in need would have to travel to additional food banks further away from their homes. This is more than an inconvenience for seniors with mobility issues or low-income families with limited time and money for gas or public transportation. And buying cheaper products that are more affordable, often means less nutritional value. This can make chronic health conditions like hypertension, obesity and diabetes more likely. "My nutrition would suffer," Jean agreed, noting she is also a cancer and Sound Mental Health patient especially in need of a healthy diet.
The Food Bank's cooking classes have been key to helping Jean build the skills to prepare healthy meals on a budget. Even without her specific dietary needs, Jean knows basic nutrition is important for everyone. "Of course, when you eat more fruits, veggies and healthy food, you just feel better," she said.
The loss of SNAP dollars or food bank access would not only have health implications for low-income people but would also wreck havoc on their overall stability. If more of the household budget was going to food, there would be less to allocate for other essentials like rent, utility bills or medical expenses. The choice is stark when deciding whether or not to eat, face eviction or receive medical treatment.
Without the combination of food banks and SNAP, Jean's increased food costs would cut into her medical budget. "And as you get older, there are always new medical bills," Jean half joked. Her situation is not uncommon among the aging population JFS serves. More than half of Polack Food Bank clients are seniors struggling to make ends meet on a fixed income, and many others are working families trying to stay afloat in a city that is quickly becoming one of the most expensive in the country.
As Seattle's cost of living continues to rise, Jean and the most vulnerable members of our community will continue to need the combined support of local food banks and SNAP more than ever.
*Name changed for privacy.

By Rachel Anne Seymour
Rachel is a trail-running dog owner and the Marketing & Communication Coordinator for JFS. She has previously worked as a multimedia journalist for newspapers throughout the Midwest and Western Washington.