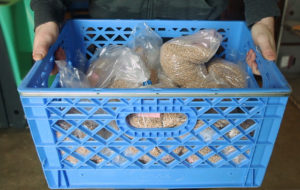 When the Bellevue church housing the monthly JFS Eastside Food Bank was damaged last year, JFS staff were forced to improvise. This meant moving the food bank to the church parking lot and temporarily serving clients out of the back of a van. Fortunately, after repairs to the church, the food bank is fully operational again and can continue providing an important community service.
The JFS Eastside Food Bank serves a community of mostly Russian-speaking seniors who settled in the Crossroads neighborhood in the early '90s with help from JFS. The community looks to the food bank for nutritious and culturally-appropriate foods like grechka or buckwheat.
Knowing how important the food bank was to the community, JFS staff worked hard to make sure it would continue even without a physical home.
"This community has a historic connection to JFS and the food bank. People expect us to be here so it's great that we could continue to provide this service," says Brian Sindel, JFS Food Bank Manager.
New Consumer-Choice Model
Now with a roof back over its head, the food bank can provide a consumer-choice model. Clients get to choose what types of food they take home in a grocery store-like setting.
"It's nice to have a permanent home again. Our clients get better service, being able to choose the foods they prefer instead of foods they may not need or use," says Brian.
Getting a food bank to Bellevue from Capitol Hill and setting it up is no small feat. One Tuesday a month, JFS staff and volunteers load up the food bank van with bags and boxes of food, including fresh fruits and vegetables, lean proteins, and canned items.
When the van pulls up to the church, it's not unusual to be met by clients waiting for the food bank to open. Brian explains that often clients, many of whom are older adults, offer to help unload the van.
"At first I was hesitant because many of our clients are elderly and I didn't want anyone getting hurt. But they don't take no for an answer. Everyone pitching in makes it feel like a community effort."
The Eastside Food Bank serves 70-80 clients each month. Both the Eastside Food Bank and Polack Food Bank need volunteers. If you would like to volunteer, please fill out the volunteer form to get started.