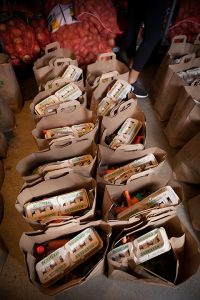 Jasmin* is a grandma, and she loves it. She cares for her grandson during the day while his parents are at work. She comes to the Polack Food Bank to stretch her food stamp (SNAP) dollars.
"We often see working families because of the rising costs of rent, utilities and food," said Susan Rogel, Director of Emergency Services. "It's not unusual for us to see grandparents, like Jasmin, come into the Food Bank for other members in their household."
Jasmin likes the JFS Food Bank because it's close to home and, "It's edible," she says with a laugh. She loves how welcoming the Polack Food Bank is. "I like to come here. It's very nice people, and it's clean." Jasmin says. "People ask you what you need or offer you things.  It's a nice feeling." She appreciates that they're also very understanding of her bringing a four-year-old along.
With her grandson starting school this fall, Jasmin hopes to use some of the other services offered by JFS, like career counseling. She may be a grandma, but Jasmin says she would love to have an encore career and take care of herself. She is motivated to do so, but she feels she might need a hand updating her skills to the "computer world," we live in today.
The interview with this client was done as part of a Polack Food Bank focus group convened to help JFS better understand how it is serving vulnerable individuals and families experiencing food security. This post is adapted from a story by Laura Day and is courtesy of Food Lifeline. Food Lifeline distributed over 100,000 pound of food to JFS in 2016.
*Name changed for client confidentiality.